Town Talk Silver Storage Strips
Posted on
We've just started to add these little Town Talk Silver Storage Strips to your order to keep your fine silver items shining bright.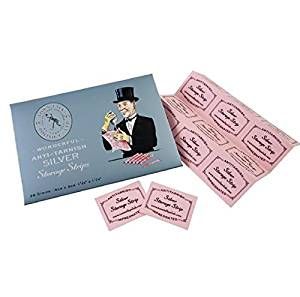 Over time any sterling silver jewellery exposed to air will tarnish. Sterling silver is 92.5% silver and 7.5% other metals. It's the other metals, primarily copper, that make sterling silver tarnish. The copper reacts to moisture and sulfur in the air, causing the sterling silver tarnish. Silver tarnishes faster in areas with high humidity and air pollution. Chemicals like hairspray, perfume, deodorant, body lotion, bleach, etc., can speed up the tarnishing process.
The best way to prevent tarnishing is to store clean, dry sterling silver in a dry airtight container, like a Ziploc bag, airtight container etc.
An

anti-tarnish strip

with the silver jewellery in a Ziploc bag or airtight container helps to absorb tarnish-causing elements.
The Strips absorb atmosperic pollutants which can cause the silver to become oxidised and can help silver to retain its bright colour over time. To ensure best results replace the Strips as often as possible.
Save
Save
Save
Save